Air Purifier and Air Detoxifier
The Problem: Harmful airborne pathogens

The recent pandemic has highlighted the danger of harmful airborne pathogens indoors – like mould, viruses and bacteria. Although this problem has been around for a very long time, it has often been overlooked as it is invisible to the human eye.

Most air purifiers rely on HEPA filters alone, they can only filter the air that passes through the device. VBreathe is different.

The new solution: All-natural air purifier and detoxifier
The all-natural indoor air purifier and detoxifier in one device is a new product category designed to be more effective in the fight against harmful airborne pathogens indoors – viruses, bacteria and mould. Pioneered by VBreathe, its patented combination of medical-grade HEPA filtration and all-natural VActive Gel has been independently proven to significantly reduce harmful airborne pathogens indoors.

To protect you and your loved ones from the harmful indoor pathogens (mould, bacteria, viruses) and toxins that are airborne, VBreathe is the superior protection.
Get your Vbreathe from as little as a cup a coffee a day!
Independently tested by leading laboratories and universities
COVID-19 VIRUS REPORT
Eurofins Laboratories found VBreathe capable of reducing a strand of coronavirus with 99.9% efficiency. This strand of coronavirus is accepted by the TGA (Therapeutic Goods Administration) as a surrogate for COVID-19.
BACTERIA REPORT
Reduction in the following Bacteria:
Staphylococcus aureus - 99.9%
Escherichia coli - 99.9999%
Pseudomonas aeruginosa - 90%
Enterococcus hirae - 99.999%
Flexible and comprehensive solutions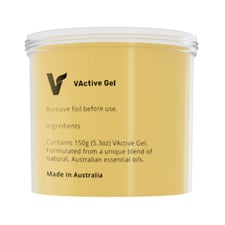 The VActive gel is a unique blend of all natural Australian essential oils that reduces the amount of harmful indoor microbes by up to 95%. The gel captures and removes harmful microbes which HEPA filtration cannot.
100% certified food safe

Deters mosquitoes
Developed and manufactured in Australia
Scientifically tested with V breathe Tasman device to demonstrate up to 95% reduction in microbes (University of Sydney)
A VActive Gel Cartridge lasts up to 3 months on a medium fan speed with 24 hours use.
How VBreathe tackles the airborne threat
The all-natural, food-safe and child-safe VActive Gel is vaporised into the surrounding air where it traps mould, bacteria, viruses and other harmful airborne pathogens before they can multiply, significantly reducing the threat indoors.
Medical-Grade
Filtration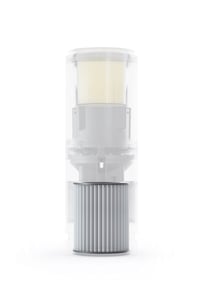 Medical grade HEPA filtration captures fine particles, including harmful PM2.5 particles, and includes an anti-bacterial coating for added protection.
Captures 99% of fine particles up to 1.0 micron including harmful PM2.5 particles
Anti bacterial coating increases filter life and prevents grow-through penetration
VBreathe's medical-grade HEPA filter uses our proprietary anti-bacterial coating to trap and reduce harmful indoor microbes and toxins in the layers of the filter. Independently tested to capture up to 97% of fine particles up to 1.0 micron and 96% of PM 2.5 particles.
Pathogens work faster than air purifiers
The second key weakness is one of speed. Harmful airborne pathogens can multiply quickly and can linger in the air for hours. Using HEPA filtration, the air must pass through the air purifier to enable the HEPA filter to trap the airborne pathogens. This can take a long time.
Intelligent design with smart sensors
There are smart sensors built into the VBreathe Tasman which detect smoke, mould, carbon monoxide and harmful PM2.5 particles in the air. This data is conveyed through to the VBreathe Air Chain Control app for easy access on the user's mobile phone. Air quality is indicated by a coloured light ring on the device and on the mobile app.
The smart sensors include;
Carbon Monoxide
Temp & Humidity
Particle
Weight
Accelerometer
Dew Point
Wifi & Bluetooth
Airflow
Smart Light Ring
PATENTED
TECHNOLOGIES

Using our patented combination of technologies – medical-grade HEPA filter + VActive Gel with Controlled Evaporation + Smart Sensors + Air Chain Control - VBreathe makes it easy for you to purify and detoxify your indoor air environment, wherever you are.
Our process
1
Client Audit
We will discuss your hygiene needs, arrange for an on-site survey and make recommendations.
2
Installation
Our expert installation service is completed within a maximum of 10 days following your order.
3
Scheduled Servicing
Our local team of service technicians will attend pre-scheduled on-site visits to service and replenish.
You may also be interested in...