Get clean air for your business
RENSAIR is unique in that it kills trapped pathogens on the HEPA filter as the UVC lamp will kill the airborne viruses that are trapped on the filter. The unit comes with an indicator to highlight when both the HEPA filter and UVC lamp needs to be changed.
NO specialist maintenance staff are required to change the filter as there is no risk of contamination from live viruses and bacteria that are caught and would normally continue to live on the filter.
Independently tested by leading laboratories and universities
This product is used all over Europe and the USA in Schools, Hospitals, Accommodations, Hospitality, Offices and more.
Here is an example of one test result from the Danish Institute of Technology – Bacteria entered into the room. With the air purifier running, after 15 min, 0.011% of the bacteria was detected in the laboratory control room. After 30 minutes the airborne bacteria were undetectable. Without the air purifier running, the natural decay of the bacteria after 15 minutes was still at 61.9% bacteria present. After 30 minutes of natural decay, there was still 20.5% bacteria present. We can provide lab reports if need be.
DOWN LOAD FLYER
RENSAIR Hospital Grade HEPA Air Purifier (Model: Q01B)
This patented HEPA Filter and UVC Lamp innovation design traps and destroys 99.97% of airborne bacteria and viruses

Hospital Grade HEPA H13 Filtration

9,000 hours continuous use before filter change
Unique 18W UVC Lamp
Purifies 560m3 of air per hour
dBA noise levels - Quiet operation from 45dBA
Independently Laboratory Tested
Easy to use - plug in, set and go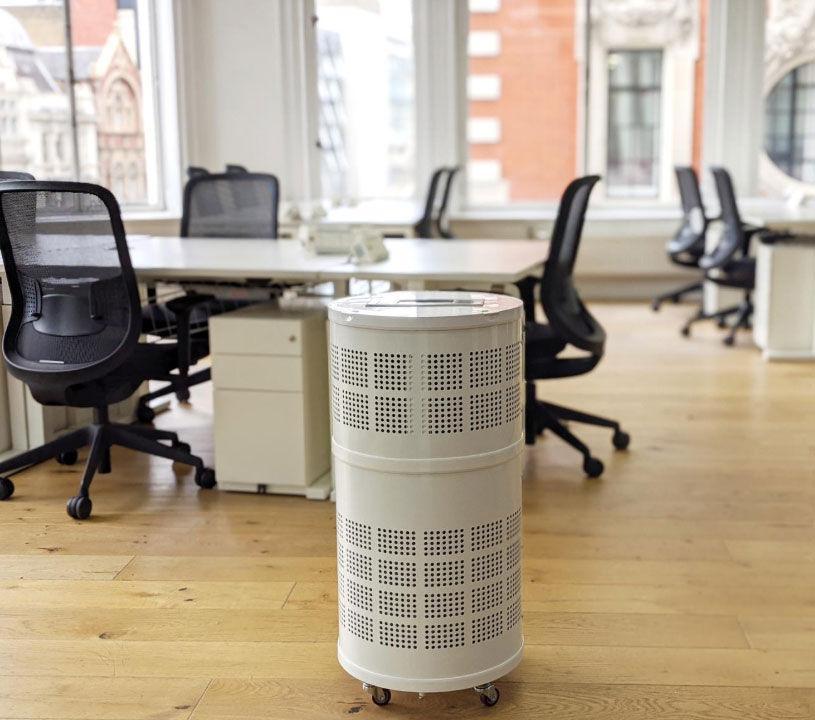 Hospital-grade technology
Originally developed for Scandinavian hospitals, the Rensair patented solution uses the most advanced air purification technology. Each air purifier consists of a germicidal ozone-free UVC light placed in the centre of a cylindrical high quality H13 HEPA filter. This captures and also inactivates viruses and bacteria trapped on the filter surface.
Tested by independent laboratories
Independent worldwide leaders in science and technology have extensively tested and validated the Rensair air purifier technology. These include Eurofins, Norconsult, Oslo University Hospital, and the Danish Technological Institute.
Large cleaning capacity
Rensair cleans up to 560 m³ of air per hour. This means that one Rensair air purifier can clean a room of 230 m² with normal ceiling height per hour. Use a combination of multiple Rensair units in larger spaces to maintain the same air cleaning rate.
Effective air circulation
Rensair's patented design and powerful fan create effective air circulation, ensuring that all air in a room is purified, as documented by the independent consultancy Norconsult.

The powerful fan pushes pre-filtered air into the cylindrical-shaped HEPA filter located in the middle of the unit. The fan creates high static air pressure in the cylinder, which pushes large volumes of air through the filter and distributes clean air at 360 degrees.
Easy to use
It takes just one person to set up a Rensair unit and no installation is required. Just turn it on to start purifying the air. Operate Rensair with controls on the machine or by using a remote. Wheel mounting makes it possible to manoeuvre the air purifier between locations.

Rensair can adapt to different countries because of the interchangeable power plug.
Safe maintenance
The sturdy metal shell makes the Rensair air purifier robust and durable for years. Pre-filters capture dust and dirt and prolong the life of the H13 HEPA filter. As a result you only need to change the HEPA filter after 9000 hours of continued use (1 year).

Rensair's patented design featuring continued germicidal UVC illumination of the filter surface keeps the filter clean from pathogens and is therefore safe to change.
Our process
1
Client Audit
We will discuss your hygiene needs, arrange for an on-site survey and make recommendations.
2
Installation
Our expert installation service is completed within a maximum of 10 days following your order.
3
Scheduled Servicing
Our local team of service technicians will attend pre-scheduled on-site visits to service and replenish.
You may also be interested in...