IMPROVE YOUR FOOD PROCESSING SAFETY WITH CLEANTEX
Food Production Workwear & Laundry Service
CLEANTEX have extensive experience providing workwear for customers in the food industry, from bakeries to cereal manufacturers, sausage factories to catering companies.
Uniforms are a must-have for your industry. Equipping your employees on the floor with the right food-processing coats is critical to keeping production running. Having safe, sanitary apparel is essential to preventing cross-contamination. Being short on uniforms — even for just one employee — can slow down production. And having a late delivery can shut down production altogether.
When you partner with Cleantex your uniform service program benefits go beyond the high-quality, brand name uniforms themselves. You'll be supported by fully trained customer service representatives and a 24/7 Customer Portal that allows you to manage your program from anywhere, at any time. Our uniform services can accommodate all your employees.
We support stringent HACCP principles & regulation standards (including microbiological testing) and enforce rigorous OH&S and EH&S standards.
Workwear has come a long way since the days of the navy boiler suit and nowhere has it come further than our WorkCraft™ stock service range. From trade to transport, the WorkCraft™ range has been designed and manufactured to exceed the demands of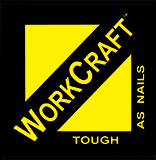 modern industry. Every item is rugged and hardwearing, but not at the expense of fit, comfort and ease of movement. In short, WorkCraft™ is designed to work for work. Quality and durability are the hallmarks of WorkCraft ™. All garments are designed to comply to workwear standards. We use only internationally recognised retroreflective tape, for general domestic washing and industrial laundering at extreme temperatures. For the ultimate in toughness, comfort and reliability, get the job done with WorkCraft ™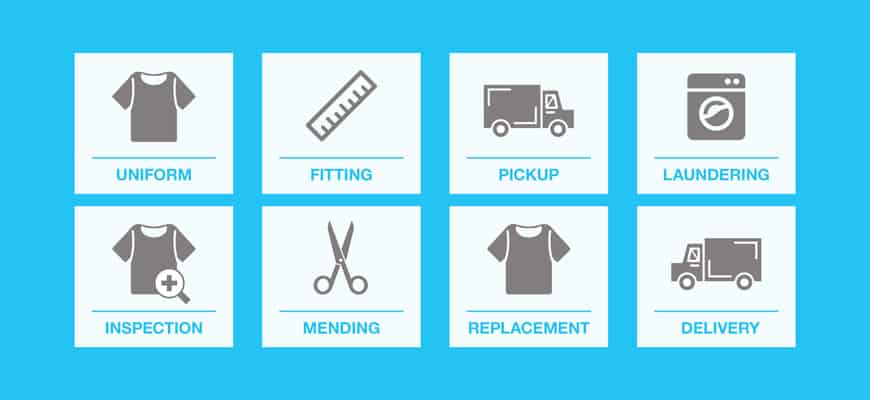 Flexible and comprehensive solutions
Cleantex take food processing safety seriously when it comes to your uniforms. Not only are we committed to providing the highest quality uniforms and service to our customers, we are also committed to safety and cleanliness at all times in our processes and operations.
From washing to delivery, we go the extra mile to ensure you always have clean and safe uniforms and linens.
Food Industry Jac Shirts & Pants
Food Industry Dust Coats
General Workwear
Butchers Coats
Aprons
Floor Mat Rental
Lockers to provide a clean storage space for uniforms (optional).
With our managed rental service, pay one fee and let us take care of all your workwear needs, including cleaning, restocking, and delivery.
Few things show corporate pride like employees wearing corporate-branded shirts. With Cleantex's custom emblem embroidery services and our line of high-quality, comfortable clothing, we provide an easy and affordable way for your employees to wear your corporate logo on their everyday business clothing.
Start building your company image and fostering team spirit with Cleantex's custom emblem embroidery services. We have a full line of corporate-branded logo wear for every application you may encounter, including:
Embroidered name or logo
Durable emblems that can be personalized with corporate name and logo
Emblems repaired or replaced as needed
Name-brand clothing options
Variety of sizes and colours
Mats will also capture dirt and liquids while people enter and walk through your building not only keeping your place clean, but also reducing maintenance costs.
Our managed floor mat rental service ensures your business has regularly laundered and serviced floor mats throughout that traps dirt and moisture, preventing it from being spread throughout the building.
Our professional mat services:
Prolongs the life of floors and carpets, delaying replacement costs;
Reduces cleaning time and materials costs;
Prevents unsightly marks within entrances and other doorways;
Reduces dust levels, helping avoid problems with e.g. ventilation ducts or electronic equipment; and
Reinforces your brand image with mats with your logo or message.
A welcoming entrance and clean, dry floors are important to your customers. No other rental mats can compare to the performance and quality of our High-Performance Mats.
With our managed rental service, pay one fee and let us take care of all your needs, including cleaning, restocking, and delivery.
Real Time Online Data Management allows the customer real-time access to their account and make the desired changes.
We use technology to empower our clients by providing tracking and reporting systems on demand, including:
Take Control of your Account with our Customer Portal.
Have a look at your customer data
Shows which wearers belong to a specific areas
Get an overview of all articles.
Take a look at the last deliveries.
Retrieve several lists, which can be used for analysis.
Search for a specific wearer or barcode
Get a list of all delivery addresses.
Check the list of all residents and their clothes.
Get a list of all lockers and the occupancy.

And more......
Ordering, Tracking & Reporting
Our team of local industry specialists will assess your uniform, garment and managed laundry service requirements. We'll provide a solution tailored to your organisation's specific requirements that is specific, cost effective and practical.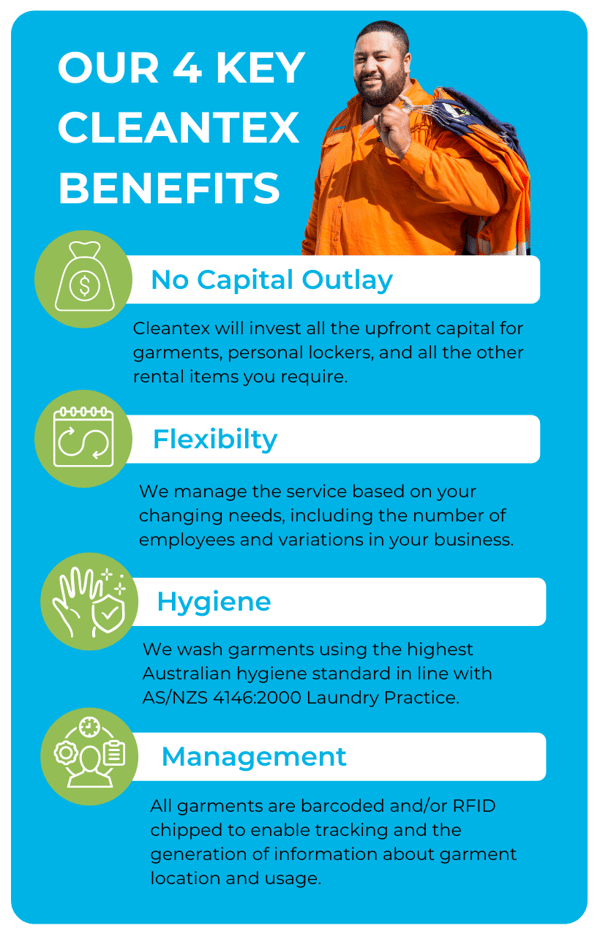 Our process
1
Client Audit
It's flexible. There's no up-front investment from you. And it's hassle-free for both you and your employees. Experience a smooth, seamless, and stress-free experience.
2
Installation
Cleantex will fund the program setup, so you don't have to. That means Cleantex can have a positive impact on your profitability from Day one!
3
Scheduled Servicing
On a weekly basis, we will pick up soiled laundry and to drop off clean for the coming week. Offering Free replacements, and emergency, on-demand servicing.
You may also be interested in...