CUSTOM IDENTITY PROGRAM
Custom Workwear & Laundry Service
For larger customers who need the garment's design to reflect their image, we can design and supply appropriate clothing, suitable for industrial processing.
Our advanced emblem, embroidery, and other personalisation options keep your employees looking sharp and easily identifiable in your business' own branded logo apparel. Whether you choose emblems for uniforms, or embroidered polo shirts or executive shirts, our corporate logo apparel provides you with the professional business image your company deserves.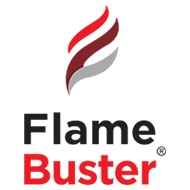 To assist companies with offering their own branded look, we offer corporate clothing solutions with your logo on custom embroidered shirts. We can also supply you with corporate identity pieces for business to business relations.
We use sophisticated design services to achieve the best possible translation of your brand image into garments. Our service will include providing you with sample garments for sign off and identifying all the features which your employees and colleagues will require. As with all our garments, embroidery and badges may be used wherever necessary.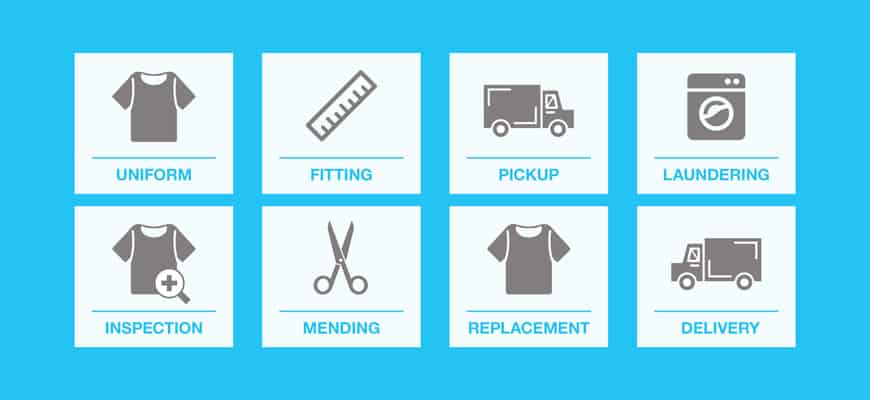 Flexible and comprehensive solutions
Company name recognition is key to every business no matter what industry you're in. Personalized uniforms can boost your company or organizations brand awareness by increasing the visibility of your company's logo or emblem through uniformed staff and employees. Employees that wear branded uniforms also take on a great sense of pride and responsibility when wearing them; they know that they represent your brand or business when they wear your company's uniform, and this translates to better productivity and performance in their respective roles.
In addition to improving workplace performance, personalized or branded uniforms and apparel increase customer confidence in working with your business by improving the perception of a company's service or products. Branded uniforms have a way of projecting competence and knowledge in your field of specialization.
Whether it's automotive or industrial work shirts, hotel and hospitality polos or oxford dress shirts, or restaurant service apparel like aprons and chef wear; we can personalize it. We are your one-stop shop for expert silk screen printing, custom logo, and emblem embroidery services.
With our managed rental service, pay one fee and let us take care of all your needs, including cleaning, restocking, and delivery.
Few things show corporate pride like employees wearing corporate-branded shirts. With Cleantex's custom emblem embroidery services and our line of high-quality, comfortable clothing, we provide an easy and affordable way for your employees to wear your corporate logo on their everyday business clothing.
Start building your company image and fostering team spirit with Cleantex's custom emblem embroidery services. We have a full line of corporate-branded logo wear for every application you may encounter, including:
Embroidered name or logo
Durable emblems that can be personalized with corporate name and logo
Emblems repaired or replaced as needed
Name-brand clothing options
Variety of sizes and colours
There's a massive range of styles, here's some to get you thinking…
Mats will also capture dirt and liquids while people enter and walk through your building not only keeping your place clean, but also reducing maintenance costs.
Our managed floor mat rental service ensures your business has regularly laundered and serviced floor mats throughout that traps dirt and moisture, preventing it from being spread throughout the building.
Our professional mat services:
Prolongs the life of floors and carpets, delaying replacement costs;
Reduces cleaning time and materials costs;
Prevents unsightly marks within entrances and other doorways;
Reduces dust levels, helping avoid problems with e.g. ventilation ducts or electronic equipment; and
Reinforces your brand image with mats with your logo or message.
A welcoming entrance and clean, dry floors are important to your customers. No other rental mats can compare to the performance and quality of our High-Performance Mats.
With our managed rental service, pay one fee and let us take care of all your needs, including cleaning, restocking, and delivery.
OUR CUSTOM
WORKWEAR COLLECTION
With Cleantex custom apparel, your employees and even your best customers become walking billboards. Personalised work uniforms are a cost-effective, smart and easy investment – with more than enough options to bring your brand to life. Personalised uniform programs support your brand and image by creating a great first impression.
Real Time Online Data Management allows the customer real-time access to their account and make the desired changes.
We use technology to empower our clients by providing tracking and reporting systems on demand, including:
Take Control of your Account with our Customer Portal.
Have a look at your customer data
Shows which wearers belong to a specific areas
Get an overview of all articles.
Take a look at the last deliveries.
Retrieve several lists, which can be used for analysis.
Search for a specific wearer or barcode
Get a list of all delivery addresses.
Check the list of all residents and their clothes.
Get a list of all lockers and the occupancy.

And more......
Ordering, Tracking & Reporting
Our team of local industry specialists will assess your uniform, garment and managed laundry service requirements. We'll provide a solution tailored to your organisation's specific requirements that is specific, cost effective and practical.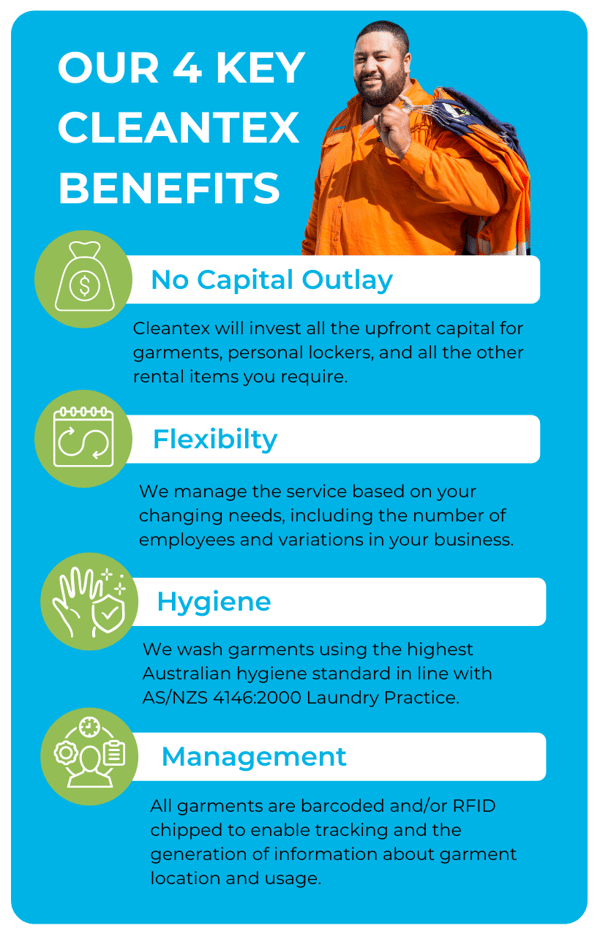 Our process
1
Client Audit
It's flexible. There's no up-front investment from you. And it's hassle-free for both you and your employees. Experience a smooth, seamless, and stress-free experience.
2
Installation
Cleantex will fund the program setup, so you don't have to. That means Cleantex can have a positive impact on your profitability from Day one!
3
Scheduled Servicing
On a weekly basis, we will pick up soiled laundry and to drop off clean for the coming week. Offering Free replacements, and emergency, on-demand servicing.
You may also be interested in...