SUPERIOR SERVICE – OUR PASSIONATE AND DISCIPLINED PEOPLE ARE OUR CORE DIFFERENCE
Chefs Wear Rental & Laundry Service
CLEANTEX offer a comprehensive range of chefs wear services that will support your entire kitchen.
When you work with Cleantex, you're working with a team that cares about your employees and customers as much as you do. We know you need uniforms and linen that not only provide comfort but are also both sanitary and safe. You can rest assured that your uniforms and linens are handled professionally to ensure the highest industry standards are consistently maintained, from pick up at your location to their return.
Our linen & uniform services can accommodate all your employees; from the kitchen, serving and administration staff and supervisory personnel. All your linen requirements are covered with our comprehensive kitchen, table linen and floor mat solutions.
FLEXIBLE AND COMPREHENSIVE SOLUTIONS
Our services include:
Branded Chef Uniforms – Rent or Purchase
Tea-towels, Glass Cloths & Grill Rags
Table Cloths and Napkins Floor Mat Programs
Floor Mat Programs




A busy commercial kitchen is no place for the faint of heart. It's also no place for sub-quality uniforms. That's why we stock the best the hospitality has to offer with the ChefsCraft™. Comfort, movement and the ability to withstand heavy laundering are essential elements of any chef's garment.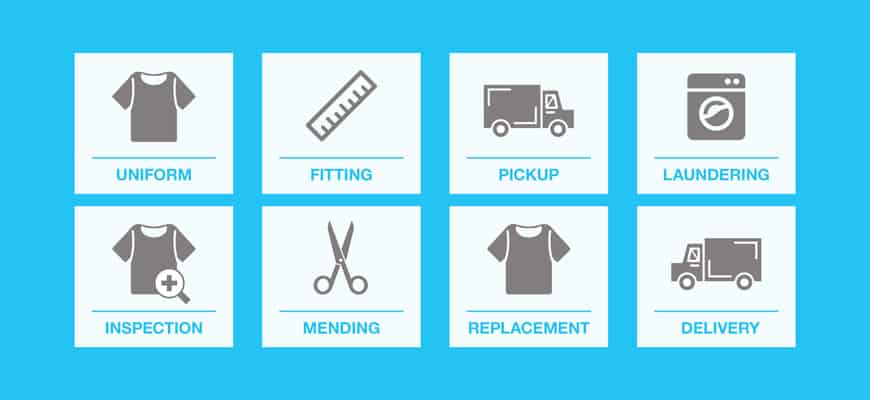 Flexible and comprehensive solutions
Our process
1
Client Audit
It's flexible. There's no up-front investment from you. And it's hassle-free for both you and your employees. Experience a smooth, seamless, and stress-free experience.
2
Installation
Cleantex will fund the program setup, so you don't have to. That means Cleantex can have a positive impact on your profitability from Day one!
3
Scheduled Servicing
On a weekly basis, we will pick up soiled laundry and to drop off clean for the coming week. Offering Free replacements, and emergency, on-demand servicing.
You may also be interested in...