THERE IS ALWAYS A REASON BEHIND WHY WE HAVE A BIRD INFESTATION.
At Pestpro we strive to find the underlining reason behind your infestation and target on removing that reason. We can advise on and install all forms of proofing, from simple spike systems to extensive netting structures. For a more direct approach, our certified air rifle marksmen can conduct legal and controlled shoots.
Our Process
When it comes to effective bird management in Perth home or business, generally deterrence is preferable to removal via several means. There is a large range of proofing options available for bird management in Perth including:
Netting
Spikes
Bird Slide
Bird Shock
Bird Wire
Hot Silicone
Sonic Countermeasures
Pestpro have personnel trained and ready to provide you with an assessment on your bird problems. We have experience in a wide range of proofing scenarios and in most instances several alternate options are available.
Cleaning Services
Pestpro also provide a service to remove the mess left behind by the birds.
Flock reduction service
Our Trapping programmes are highly successful in thinning out large flocks of feral pigeons and when used in conjunction with any of our exclusion methods can help to resolve majority of infestations. Traps are checked daily and placed in unobtrusive locations, food and water is placed inside the trap for the Pigeons welfare, the trap is emptied regularly, and pigeons are then removed off site and culled humanely.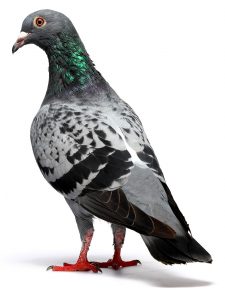 Pigeons live for approximately 3 to 4 years in the wild, producing 4 to 8 young each year per female. Pigeons will generally live their entire life in close proximity to their birthplace. Pigeons attract ticks, mites, cockroaches, rats; furthermore they damage buildings and pose a health hygiene risk (people have died from cleaning pigeon faeces with no respirator). They also pose a public liability risk through the possibility of someone slipping in faeces.
Birds can be a difficult problem, as they can nest or roost in buildings and roofing, turn a building into an eyesore simply with unsightly droppings, not to mention the fact they can carry many diseases. This is why effective bird management in Perth is so important.
Lifecycle
2 – 3 broods per year, with 2 eggs in each clutch.
17 – 19 day incubation period.
Young birds spend 35 – 37 days in the nest.
Habits
Feeds on seeds, green feed, domestic scraps in and around cities, near roosting sites.
Nests on ledges.
You may also be interested in...